I have the spectacular pleasure of featuring one of my favorite Etsians and bookbinders: Pat Sweet. She owns the Etsy shop
Bo Press Miniature Books
and makes wonderful "books of curiosity, mystery, humor, and delight." Be sure to click on the hyperlinks interspersed to discover amazing resources for bookbinders, or to find more details about her work!
Here's the interview:
What first interested you in bookbinding?
Two things: reading and dollhouses. I'd always been a reader and collector, but had never heard of miniature books until I decided to make a dollhouse. Naturally I wanted a library in my little house, but a search of the Internet taught me two things: if I wanted to fill library shelves with real books (hand-made, with content) it was really going to cost me. Miniature fake books were cheaper, but disappointing. I'd been a craftsman all my life, making theatrical costumes, so I thought, "How hard could it be to make my own?"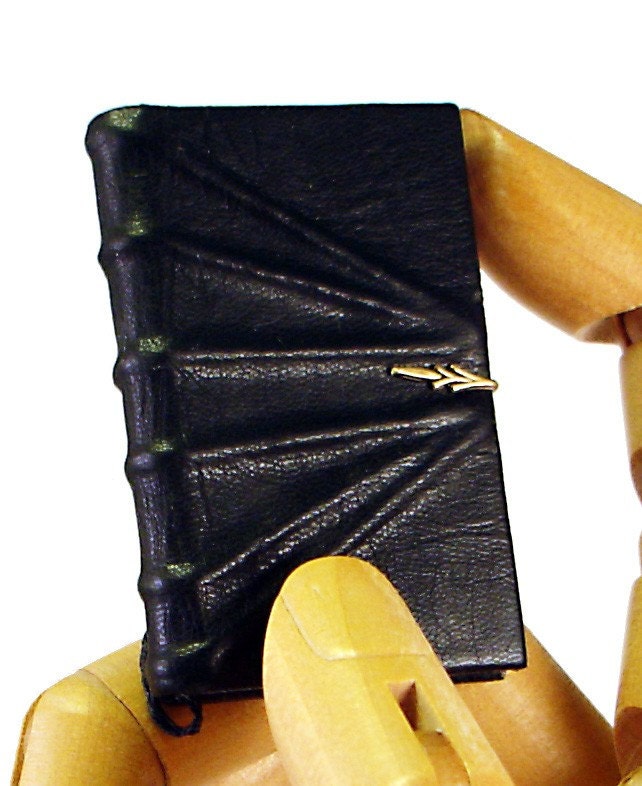 This leather covered book, Grisbourne, features
actual content from an Australian writer Prue Batten.
How/where did you learn the techniques you use?
I'd call myself self-taught except that I depended almost entirely on Internet tutorials to learn the basics of bookbinding, primarily the excellent tutorials by Garry Harrison of Indiana University Libraries, the clearest and best illustrated of all the many bookbinding sites on the Internet. I also got lots of insight on binding miniature books specifically from Peter and Donna Thomas' More Making Books By Hand. Everything else has been experiments of varying degrees of success.

What inspires your work? To what extent do you base your books on historical books?
My first criterion for the books I make is this: will it make the reader feel curiosity, wonder, humor and delight? I want to recreate that moment every reader has felt in a bookstore of taking a book off the shelf and experiencing a coup de foudre of astonishment and recognition that doubles her over with the lust to own it.

As for historical books, only superficially, as far as binding is concerned. Eventually I'll learn bookbinding properly,with all its historical forms, but for now case-binding is about as far as I go. Content, on the other hand, is something else again. I love playing with historical layout and design, and especially turning them on their heads and to odd purposes.
Why mini books?
Because they're irresistible. Miniature books automatically have that aura of magic about them that we associate with things that push the boundaries of reality. And it lets me create my own content with no more effort than that of a term paper, rather than having to write a whole book. Saves a lot on materials, too.
Many of your books are printed; do you create their content? If so, what is your process of creation?
Usually, yes. I illustrate all my books with Photoshop collage in a style that will express the purpose of the content, using public domain images. Like this, for example, an illustration I did for a book on dragons. I wanted to show them in a sympathetic light, away from their St. Georges, so I combined several ideas and let them play with each other: dragons, paintings, frames, gallery, and escape. And this is what I got.
Sweet uses public domain images and transforms them into
illustrations for her books. Her Grisbourne book (pictured above) uses
large ornate letters from a 15th century manuscript,
The Macclesfield Alphabet Book.




I'm fond of concepts like this, especially when they break the fourth wall, as this one does. I've done a book that illustrated in itself how a book is made, and have done a book about books that appear in other books as books inside a book inside a book-shaped box. It's called This Is Not A Book. Other books are straightforward illustrated versions of poems and songs, or maps of imaginary places. I did a book about flea circuses that demanded to be made as a pop-up.
My favorite, your Baba Yaga book features a case made with chicken leather (which is ingenious!). What other exotic or unorthodox materials do you use?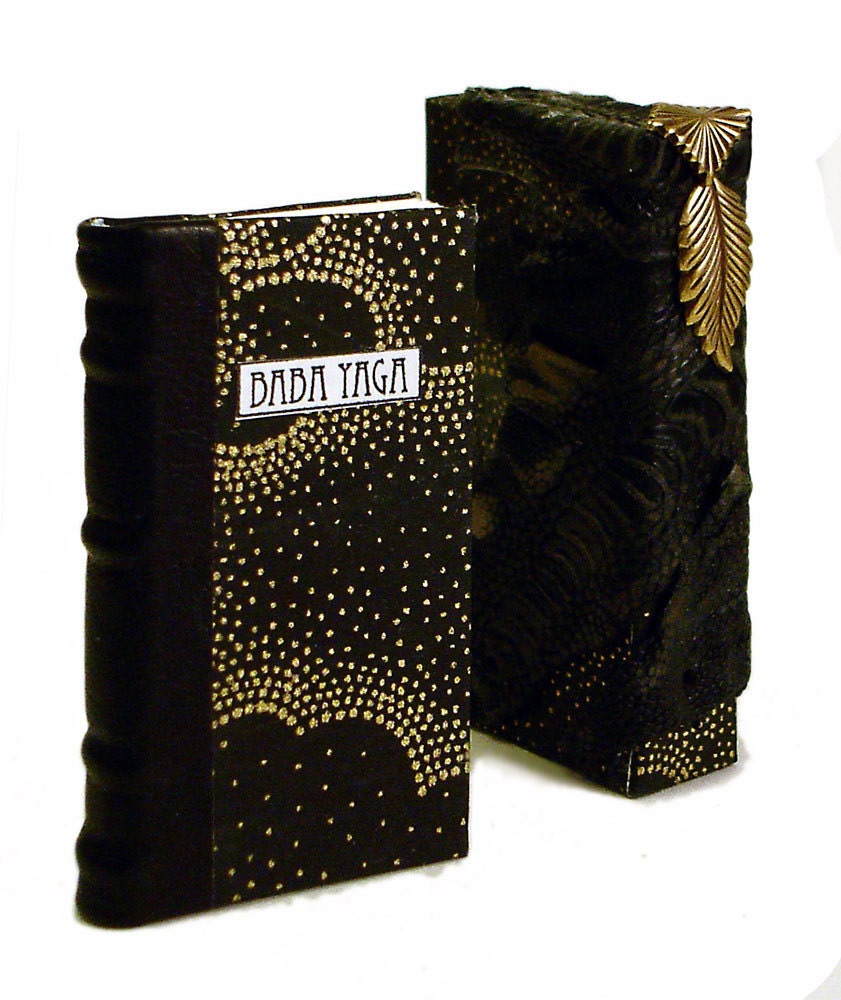 The Baba Yaga book comes with it's own case--which is covered
in chicken leather and the same Japanese printed paper as the book.
Both show off Sweet's unique blend of invention and adherence to
classical case bound styles.
When I was planning Baba Yaga, one of my blog readers wondered if binding leather could be made out of chicken skin. One Google search later, tanned chicken leg skin was on its way to my door. The joke is, of course, that Baba Yaga's hut is perched on chicken legs.
The Masked Ball also comes in two additional bindings,
one half-bound in black lace and one trade bound.
I've bound a book about the Commedia delle'Arte as the back of a theatrical flat, with tiny lumber, muslin, and corner blocks. I've bound a book about heiroglyphs in papyrus. I bound a story about a supernatural masked ball in black lace and a slipcase containing a shadowbox containing a miniature golden bead-and-lace-trimmed mask.
Do you have a favorite type of binding?
Even though it's the only one I really know, case-binding really is my favorite. Although I recognize Japanese bindings as beautiful, I've never been tempted to learn to make them. One thing I must learn, though, is tooled leather bindings.
Many of your books have accessories, like your chained libraries. Do you hand-make those as well?
I do. I started making little boxed pocket globes, since box-making and book-binding go hand-in-hand.This led to tellurions and orreries in little glass vitrines, and I finally got up the nerve to tackle woodworking, using wood that I'd bought for the (now abandoned) dollhouse.
Do you have any advice for bookbinders who've just started?
Learn by doing. Don't wait till you know how to do a technique, figure it out by trying it. Don't try to re-use waxed paper, it's cheap. Thread is not your friend. Single-edge razor blades are your friend. Get thin leather for miniature books from old gloves at antique stores. Your cleverest ideas will come from trying to work around mistakes. Start selling your books immediately, on Etsy or eBay. Not so much for the money at first, but because you will meet the most wonderful and friendly people. There are plenty of people out there who care passionately about miniature books: join the Miniature Book Society!
Any resources or trade secrets you'd like to reveal?
Buy paper from:
Buy equipment especially for miniature books from:
Marvel at other people's miniature books at: